Overlanding Truck Accessories In Tucson, Arizona
If you're an outdoor enthusiast in Tucson, Arizona, and looking to elevate your camping and off-road adventures, overlanding truck accessories are a must-have. Max Truck Plus, located at 4535 S 12th Ave, Tucson, AZ 85714, is your go-to accessory store for all things overlanding. They specialize in truck bed covers, truck bed racks, rooftop tents, and a wide range of other overland gear to enhance your outdoor experiences.
Max Truck Plus boasts a team of experts who are well-versed in overlanding and the specific needs of truck owners. Whether you're a seasoned overlander or new to the world of off-road exploration, their knowledgeable staff can guide you in selecting the right accessories for your truck. From practical solutions to stylish enhancements, they offer a diverse range of products to cater to your individual preferences and requirements.
Truck bed covers are an essential accessory for any overlanding enthusiast. They provide protection for your gear, keeping it secure and shielded from the elements during your adventures. Max Truck Plus offers a variety of truck bed covers, including soft folding, roll-up, hard folding, and retractable options. Their experts can help you choose the cover that best suits your needs, ensuring your gear stays safe and dry throughout your journeys.
To maximize the cargo-carrying capacity of your truck, truck bed racks are a valuable addition. These racks allow you to mount various equipment, such as rooftop tents, awnings, and additional storage containers. Max Truck Plus offers a range of durable and versatile truck bed racks, enabling you to customize your setup and carry all the essentials for your overlanding trips.
Rooftop tents are increasingly popular among overlanders, offering a convenient and comfortable camping solution. With a rooftop tent, you can elevate your sleeping quarters off the ground, providing better insulation and protection from wildlife. Max Truck Plus supplies high-quality rooftop tents designed for durability and ease of setup, ensuring a cozy and secure camping experience wherever your adventures take you.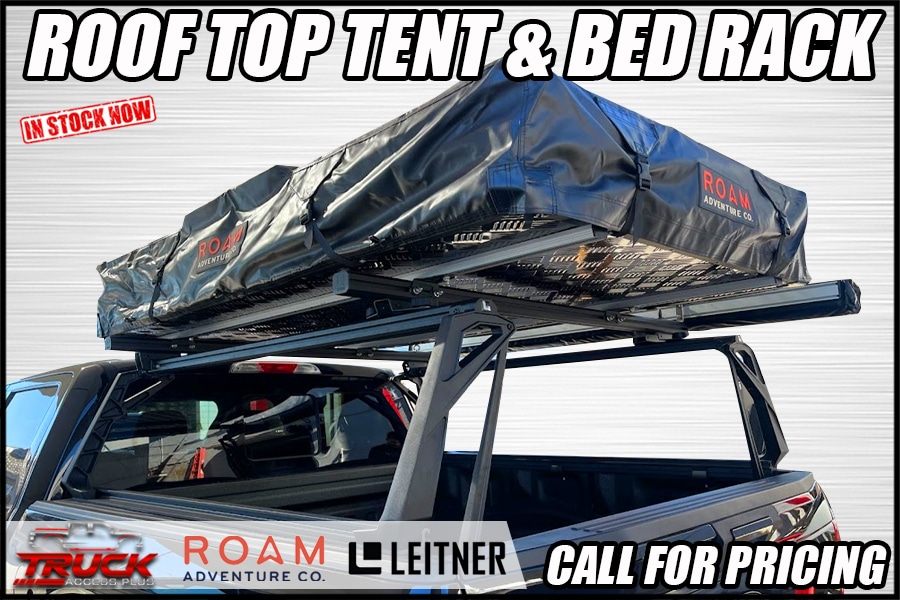 Overlanding has gained popularity for several reasons. It allows outdoor enthusiasts to escape the hustle and bustle of city life and immerse themselves in nature. It offers the freedom to explore remote and off-road destinations, discover hidden gems, and experience breathtaking landscapes. Overlanding provides a unique blend of adventure, self-sufficiency, and the opportunity to create lasting memories with friends and family.
When outfitting your truck for overlanding, it is crucial to have the right accessories. Reliable truck bed covers, sturdy truck bed racks, and comfortable rooftop tents are key components that enable you to carry essential gear, protect your equipment, and provide a comfortable sleeping arrangement during your overland adventures. Max Truck Plus understands the importance of these accessories and strives to offer a wide selection of quality products to meet the needs of overlanding enthusiasts.
In and around Tucson, Arizona, there are numerous camping destinations perfect for exploring with your new overland truck. Some popular areas include:
Mount Lemmon: Located in the Santa Catalina Mountains, Mount Lemmon offers cool temperatures, scenic vistas, and numerous campgrounds. It's an ideal destination for outdoor enthusiasts seeking hiking, mountain biking, and picturesque camping spots.
Chiricahua National Monument: Known for its unique rock formations and diverse wildlife, Chiricahua National Monument offers camping opportunities surrounded by natural beauty. It's a haven for hikers, birdwatchers, and nature lovers.
Saguaro National Park: As a prominent symbol of the Southwest, Saguaro National Park showcases the beauty of the iconic saguaro cacti. The park provides camping options and miles of scenic trails for exploration.
For more information about overlanding truck accessories and the best camping spots in the Tucson area, feel free to contact Max Truck Plus at (520) 620-0570. Their knowledgeable staff will be happy to assist you, answer your questions, and provide further details on their product offerings.
In conclusion, if you're seeking high-quality overlanding truck accessories in Tucson, Arizona, look no further than Max Truck Plus. With their expertise, extensive range of products, and dedication to customer satisfaction, they are the perfect destination to equip your truck for unforgettable overland adventures. Visit their store today to explore their selection and embark on your next outdoor journey fully prepared.