BakFlip MX4 Truck Bed Covers in Tucson, Arizona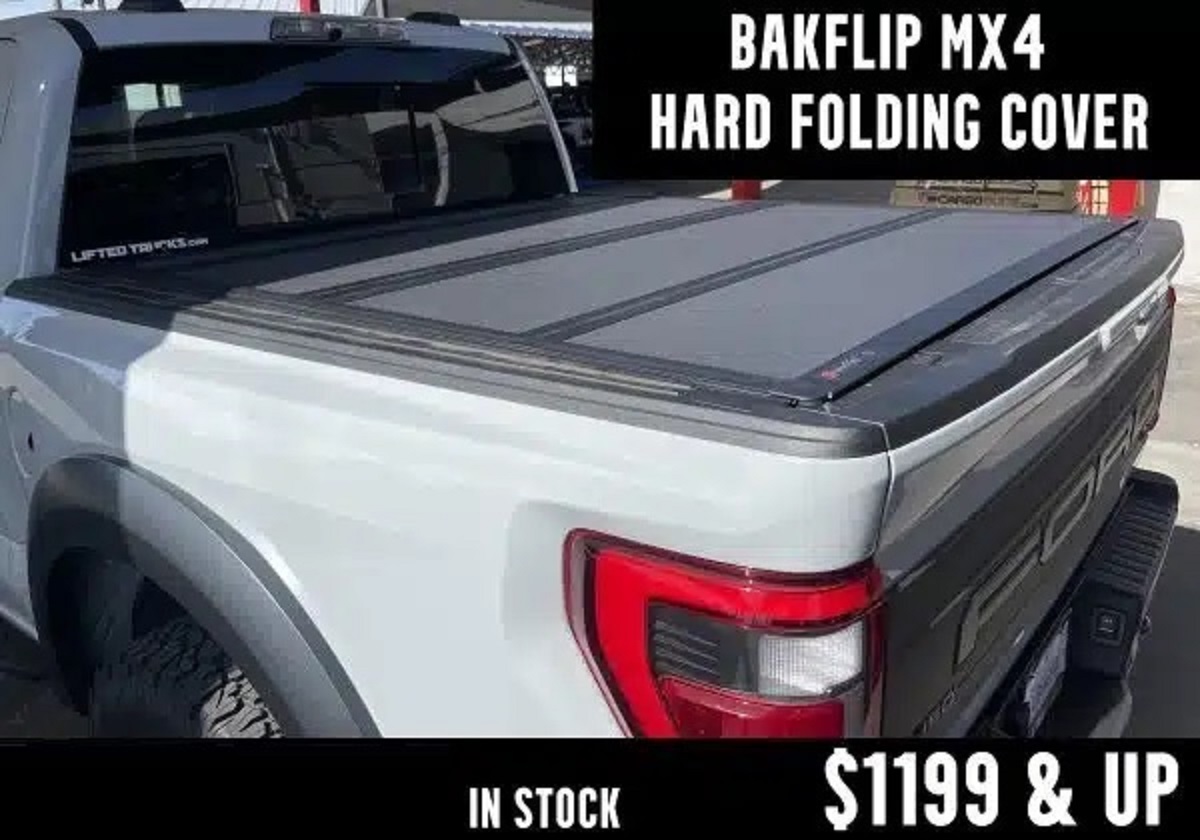 Durable Aluminum Matte Finish Panels
Universal Tailgate Operation with Dual Action Seal
Injection Molded Latch Housing for Long-Term Durability
Premium Density Foam Core
Advanced Scratch and Scuff Resistance
Rated up to 400 lbs. of Evenly Distributed Weight
Extended 3-year Warranty
When it comes to protecting your truck bed and enhancing its functionality, BakFlip MX4 truck bed covers are a popular choice among truck owners in Tucson, Arizona. These high-quality covers offer durability, security, and a sleek appearance that complements any truck. If you're interested in BakFlip MX4 covers, head to Max Truck Plus, an authorized dealer for this leading brand.
As an authorized dealer for BAK Industries, Max Truck Plus proudly offers a wide range of BakFlip MX4 truck bed covers. BAK Industries is known for its innovative designs, superior craftsmanship, and commitment to customer satisfaction. By choosing Max Truck Plus, you can trust that you're getting genuine BakFlip MX4 covers backed by warranties.
You can find Max Truck Plus conveniently located at 4535 S 12th Ave, Tucson, AZ 85714. We invite you to visit their showroom to see the BakFlip MX4 covers on display. Seeing the covers in person allows you to evaluate their quality, examine their features, and get a better sense of how they will look on your truck.
One of the standout features of BakFlip MX4 covers is their hard folding design. These covers are made from durable aluminum panels that provide excellent protection for your truck bed. The panels are designed to fold up in sections, allowing you to access your cargo with ease. This design offers the flexibility to partially or fully fold up the cover, providing access to the entire bed or specific areas as needed.
There are several reasons why people prefer hard folding covers like the BakFlip MX4. Firstly, they offer exceptional security. When the cover is locked in place, it provides a reliable barrier against theft, keeping your cargo safe and secure. Additionally, hard folding covers offer excellent protection against the elements, ensuring that your truck bed and its contents remain dry and free from damage.
Another advantage of hard folding covers is their versatility. They allow you to adapt the truck bed to accommodate various cargo sizes and shapes. Whether you need to transport large items or prefer to keep the bed partially open for easy access, the folding panels of the BakFlip MX4 offer the flexibility to meet your specific needs.
While purchasing a BakFlip MX4 cover online may seem convenient, visiting a local store in Tucson, AZ, like Max Truck Plus, offers several advantages. By visiting the showroom, you can physically examine the BakFlip MX4 covers, test their functionality, and appreciate their build quality. Furthermore, you have the opportunity to speak with the knowledgeable truck bed cover experts at Max Truck Plus, who can provide personalized guidance based on your truck's make and model, as well as your specific requirements.
Max Truck Plus not only sells BakFlip MX4 covers but also offers professional installation services. Their experienced team can ensure that the cover is properly installed, guaranteeing optimal performance and longevity. Moreover, should you require any support or maintenance services in the future, visiting a local store allows for easy access to the assistance you need.
In conclusion, when it comes to BakFlip MX4 truck bed covers in Tucson, Arizona, Max Truck Plus is the authorized dealer to trust. Visit their showroom at 4535 S 12th Ave, Tucson, AZ 85714, to see the BakFlip MX4 covers on display and consult with their truck bed cover experts. With their commitment to customer satisfaction and the advantages of visiting a local store, Max Truck Plus is your ideal destination for BakFlip MX4 covers. Enhance the protection, style, and versatility of your truck bed by choosing BakFlip MX4 from Max Truck Plus today.